As we continue to respond to the impacts of the coronavirus, we would like to share some information on how to track your leave taken in CalTime as it relates to COVID-19.  
For policy related questions regarding COVID-19 you may
Consult your supervisor
Visit the People and Culture website for additional leave information
For questions regarding which CalTime pay codes are applicable to your leave, please consult your HR partner. You may submit a ticket to BRS HR/APS

(link is external)

. If you are supported by ERSO, Cal Performances, or I-House please do not submit a ticket and please reach out directly to those departments.
If you are experiencing access issues or having difficulty recording time in CalTime, please email caltime@berkeley.edu(link sends e-mail).

LEAVE TYPE


CALTIME TIMECARD PAY CODE


UCPATH EARN CODE DESCRIPTION


CalTime pay codes map to UCPath earn codes. UCPath earn code desciprtions display on the employees paycheck

Emergency Paid Sick Leave (EPSL)- Reasons 1-3
Employee-Emergency Paid Sick Leave
Emergency Paid Sick Leave EE
Emergency Paid Sick Leave (EPSL) Reasons 4-6
Family-Emergency Paid Sick Leave
Emergency Paid Sick Leave Family

Expanded Family medical leave concluded December 31,2020
UC Paid Administrive Leave due to COVID-19 reasons concluded June 30, 2021
To view your total COVID-19 related hours taken, click on the handle at the bottom of your timecard and access the accrual tab. An example is displayed below.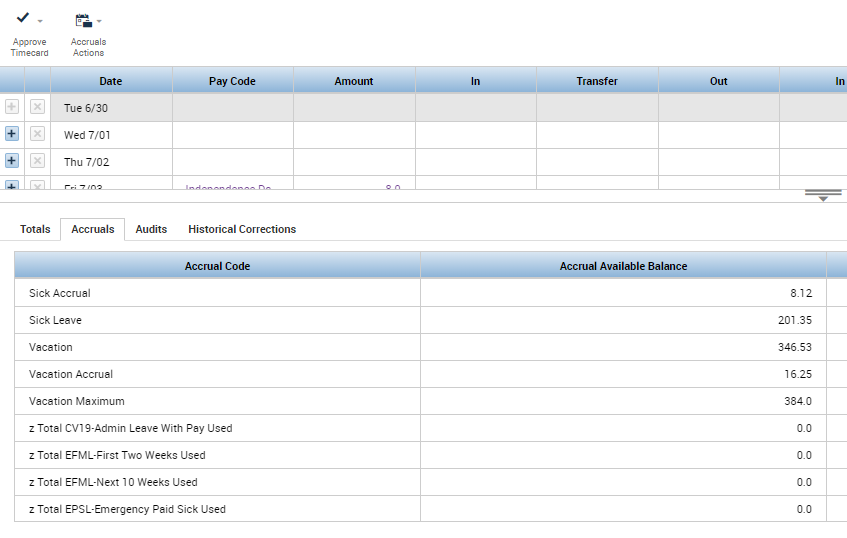 Prior communications: